Regarding the Renewal of the Official Website
Tokyu Stay thanks all of our customers for their continued support.
The official website was renewed on May 9, 2022, to improve its usability for our customers.
We apologize in advance for any inconvenience the following changes may cause. Please be sure to check the points below and confirm whether they affect you.
1. Member Information
Any member information registered before May 8, 2022 will not be carried over after May 9, 2022. Members who registered before May 8, 2022, will need to register their information again.
Registered members will be able to take advantage of membership pricing when staying at our hotels.
2. Reservation inquiries/updates/cancellations
Click the link next if you wish to view, change, or cancel a reservation made on May 8, 2022 or earlier.
People who became members under the old membership system can log in by entering their old member information (e-mail address, password) for inquiries, updates, or cancellations of any reservations made before May 8, 2022.
Both members under the old membership system and those who aren't members can enter the reservation number given in the reservation confirmation e-mail and their e-mail address for inquiries, updates, or cancellations of said reservation.
* The reservation number given is hyphenated (3 digits – 8 digits – 2 digits) (for example: 000-00000000-00)
* Guests who have forgotten their reservation number should please make a direct inquiry with the branch hotel where they made their reservation.
Click the link next if you wish to view, change, or cancel a reservation made on May 9, 2022 or later.
Those who have completed their member registration on the new site can confirm their details via My Page.
If you have not completed your member registration, be sure to check your reservation email.
ROOMS
All of our hotels offer spacious rooms in which our guests can leisurely relax.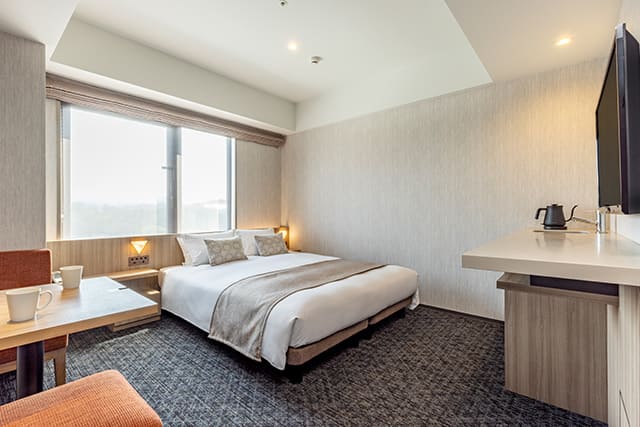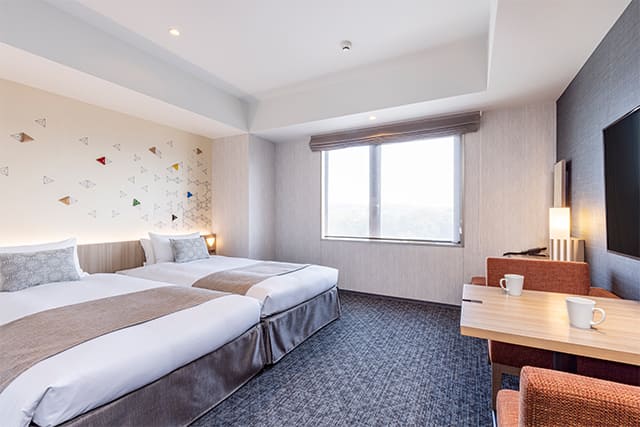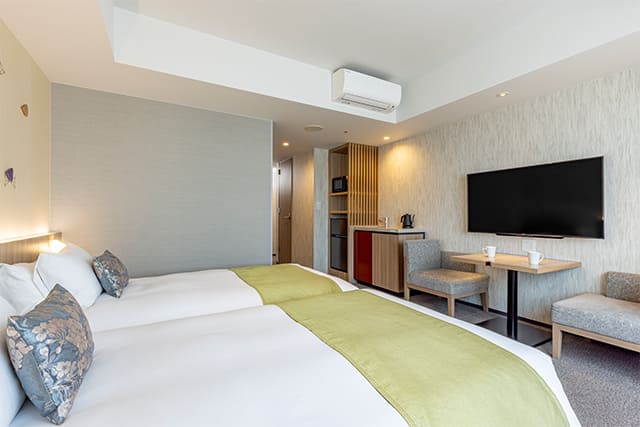 Deluxe Twin
【Floor space:34 square meters / Bed size:1.1 meters / leeps 2-3 guests】
A washer/dryer is available in the room, meaning guests can comfortably stay with just a small amount of luggage on both business and leisure trips. This room is equipped with an easy-to-use kitchenette along with utensils and cutlery for basic cooking. Bath and toilet are located separately. Recover from a day of business or travel in our relaxing and spacious baths. An additional bed can be rented to allow up to 3 guests to stay in the room.
BREAKFAST
KANADE café offers a freshly prepared Japanese and Western buffet breakfast every morning for our guests.
Western style dishes include weekly offerings that change according to the season, bread and curry, and more.
Japanese offerings include a variety of Kazazawa's local dishes such as oden, side dishes,
miso soup made with specialty Kanazawa stock using water from Mt. Hakusan.
Our daily and weekly breakfast menus can cater to the needs of guests on long-term stays.
We hope you enjoy the freshly made breakfast at Tokyu Stay Kanazawa. * Breakfast tickets can be purchased at the front desk.
Location

Breakfast room on the 1st floor

Menu

Japanese-Western buffet

Hours

6:30 AM – 10:00 AM (last order at 9:30)

Price

1,800 JPY (tax incl.)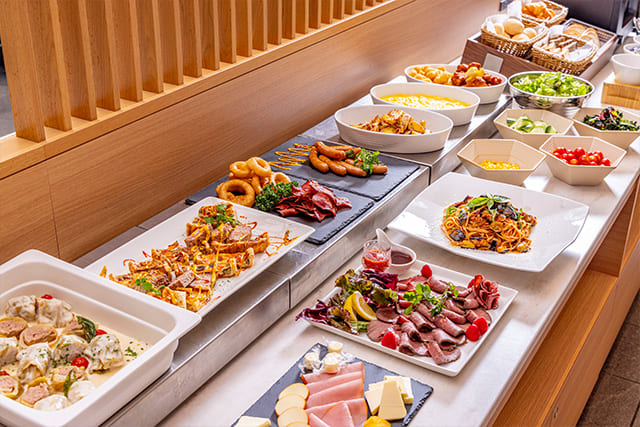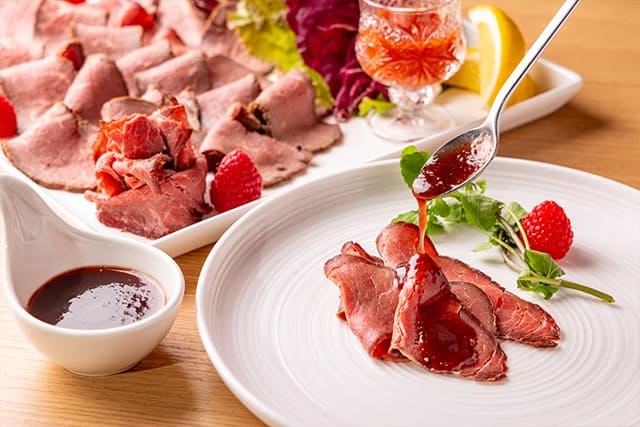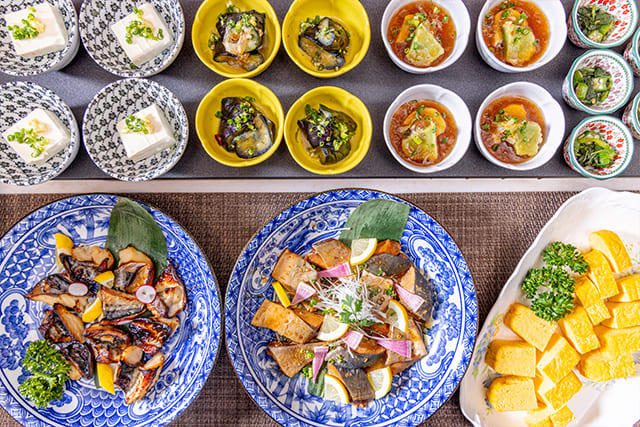 FACILITY&SERVICE
Guests can take full advantage of our services and amenities
to enjoy their typical lifestyle while staying at our hotels.
Each and every one of our staff will help ensure guests enjoy a safe and comfortable stay.
See information about our hotels below.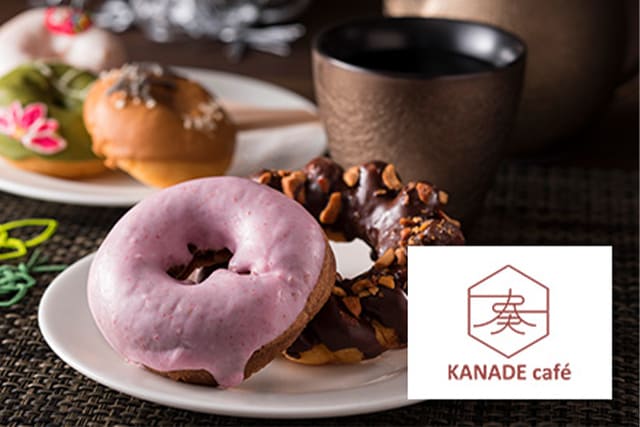 KANADE café
Ufufu donuts produced in Kanazawa are gentle and delicious donuts made with tender love and care. No preservatives or additives are used in making these donuts, and underground water from Mt. Hakusan also goes into their creation. These donuts take full advantage of all the fresh ingredients of the local Hokuriku region.
The drink menu is full of fantastic offerings, such as latte art where guests can choose from whichever artwork they like, and Kanazawa's famous roasted green tea.
Seats

46

Hours

Cafe

11:00 AM – 6:00 PM
(last order at 5:30 PM)
ACCESS
Nearest station

Located about a 1-minute walk from the Hokuriku Railroad Bus Minamicho Oyama Shrine stop.

Location

4-50 Minamicho, Kanazawa-shi, Ishikawa, 920-0919

TEL

FAX

+81-76-223-8110