ROOMS
All of our hotels offer spacious rooms in which our guests can leisurely relax.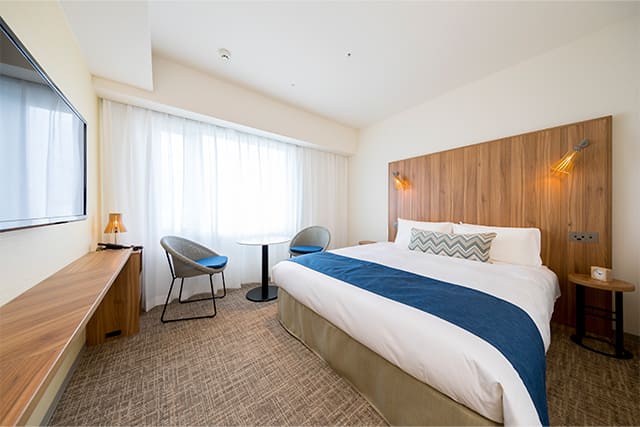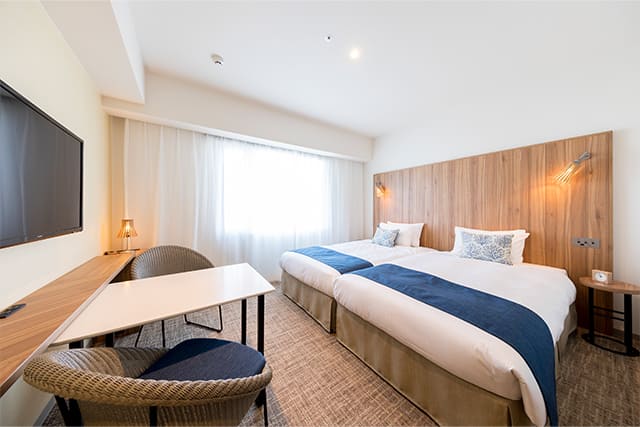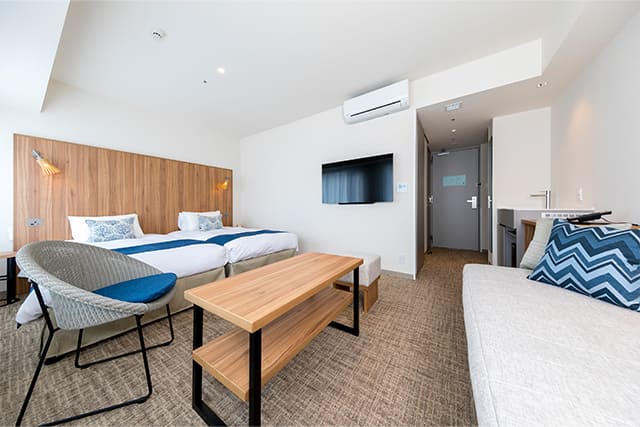 Residential Family Room
【Floor space:31 square meters / Bed size:1.1 meters / sleeps 2-4 guests】
This 31 square meter room offers guests the chance to enjoy our comfortable, spacious rooms. The beds are Hollywood twin type and are ideal for both couples and families. It's also wide enough so that children can also sleep comfortably. This room is perfect for guests seeking a spacious, open room. Friends, family, and all manner of groups will enjoy a comfortable stay in this room featuring a sofa set and other comfy amenities.
The bath and toilet are located separately, so guests can recover from a day of business or travel in our relaxing and spacious baths.
Additional 0.9 meter-wide and 0.78 meter-wide beds can be rented to allow up to 4 guests to stay in the room.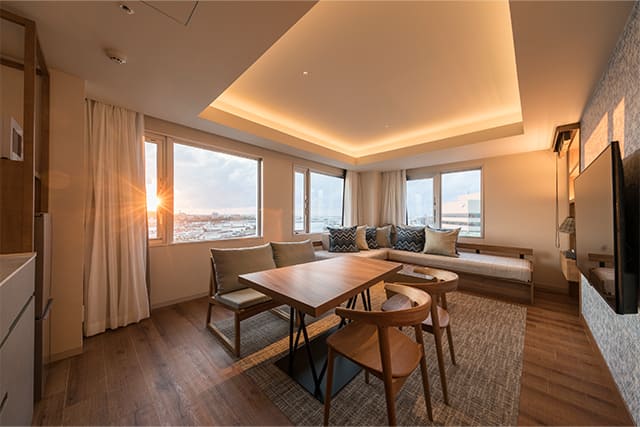 Premiere Riverside Twin
【Floor space:59 square meters / Bed size:1.2 meters / sleeps 2-4 guests】
This room boasts 59 square meters of floor space and separate living and bedrooms, meaning guests will have plenty of space to relax.
A dining table is also situated in the living room, allowing you to feel right at home during your meals in the room. This room also features a kitchenette so guests can make the most of their meal time.
Enjoy a luxurious night view from the bathroom as you soak in a European-style tub. The relaxation offered will make you forget all about your day-to-day life.
Two additional 0.78 meter-wide beds can be rented to allow up to 4 guests to stay in the room.
BREAKFAST
Kanasan Dining offers a breakfast buffet menu featuring a healthy balance of Western and Japanese dishes,
along with local Okinawan dishes prepared with regional ingredients.
We recommend trying the all-you-can-top seafood rice bowl, the first of its kind in hotels in Okinawa.
Guests can mix and match from whichever of the seafood options most suits their tastes.
This wide-open restaurant also boasts a comfy and spacious atmosphere.
Location

Breakfast room on the 5th floor

Menu

Japanese-Western buffet

Hours

6:30 AM – 10:30 AM (last order at 10:00)

Price

1,800 JPY (tax incl.)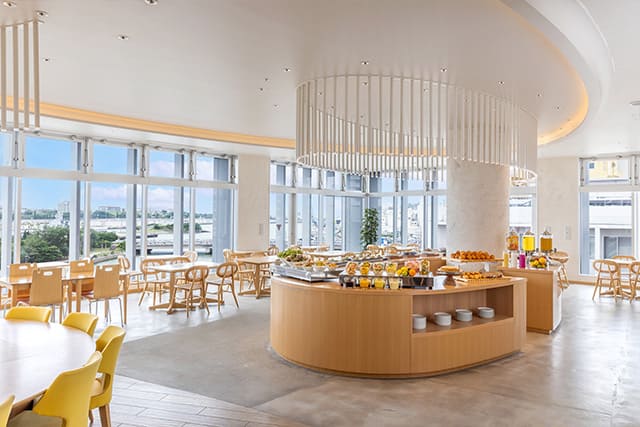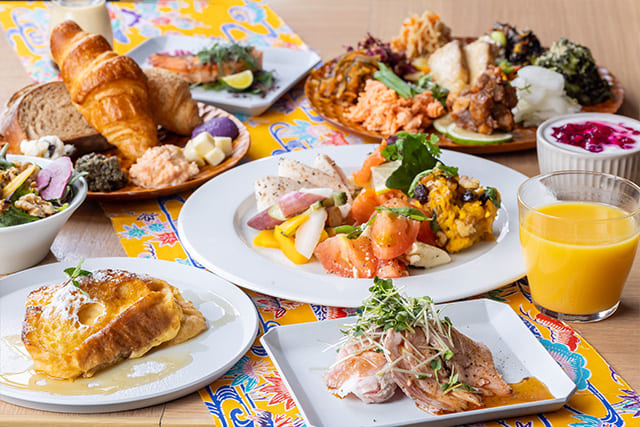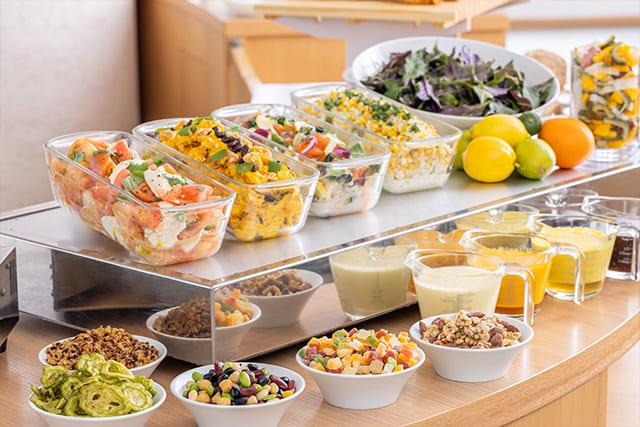 FACILITY&SERVICE
Guests can take full advantage of our services and amenities
to enjoy their typical lifestyle while staying at our hotels.
Each and every one of our staff will help ensure guests enjoy a safe and comfortable stay.
See information about our hotels below.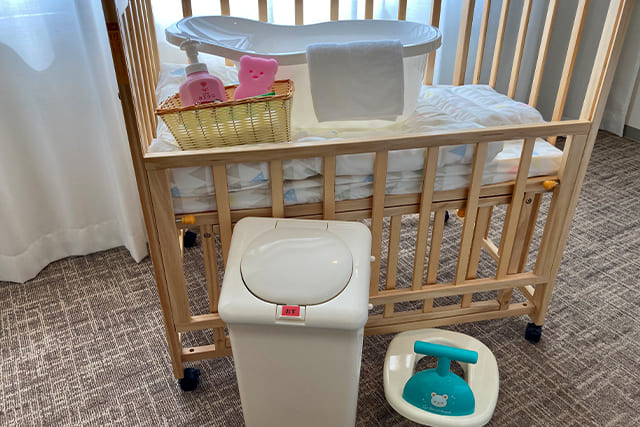 Kids Services
We want guests traveling with little ones to enjoy all the comforts of their life at home. A variety of free amenities are available for rent to make taking care of your children even easier.
List of baby goods available for rent

Baby bed, baby bath, diaper disposal can, bed guard, baby soap, toilet seat for infants

Kids amenities

Slippers, body soap, toothbrushes
* Only a limited number of items are available. Be sure to inform us of your needs when you make your reservation. * To ensure the safety of your children, baby beds are only available for use for infants that are less than one year of age. * Baby beds may not be available for use depending on the type of a room.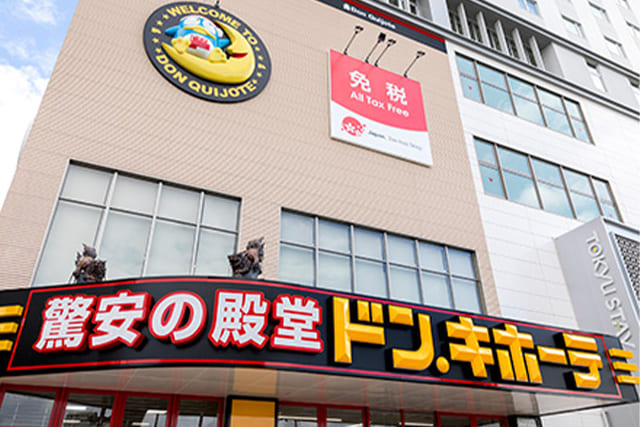 Don Quijote Naha Tsubogawa branch
A Don Quijote department store is located on the first and second floors. It is accessible by elevator, and has a wide selection of daily necessities for sale as well as Okinawan souvenirs, medicines, cosmetics, and baby products.
ACCESS
Nearest station

Located a 3-minute walk from Tsubogawa Station on the Okinawa Urban Monorail Yui Rail Line.

Location

3-2-1 Tsubogawa, Naha-shi, Okinawa, 900-0025

TEL

FAX

+81-98-833-1091

Affiliated parking lot

The parking structure for the hotel is located on third and fourth floors. For guests arriving via car, please be aware of the parking lot conditions.

Affiliated parking lot (indoors)

Parking spots

123 *No entry/exit for cars

Fee

1,500 JPY per day (tax incl.)


* Payment of parking fees for the hotel's third/fourth floor parking structure can be made at the front desk. * We are unable to reserve or guarantee parking spaces in advance. * Please use nearby coin parking if the facility's parking lot is full when you arrive.