最近ではかなり春めいた気候になってまいりましたが、皆様如何お過ごしでございますか? 
さて、当ホテルの最寄り駅の祐天寺駅から東横線で1駅目の中目黒で下車いたしますと、この時期テレビのワイドショーなどでも度々取り上げられております、「目黒川の桜」を堪能することができます。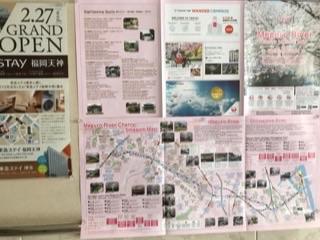 そこで、目黒川の桜を広範囲にそして色々な角度から楽しむための「目黒川桜マップ2019」を当ホテルのエントランス掲示板に掲示いたしましたので、お花見の参考にしていただければ幸いでございます。
東急ステイ目黒祐天寺から中目黒までのアクセス方法:
東急東横線「祐天寺駅」→「中目黒駅」(約2分)
---
The Meguro River Cherry Blossom Map 2019
We posted the Meguro River Cherry Blossom Map (translated into English, Chinese, and Korean) with detailed information for cherry blossom viewing along the Meguro River on our entrance hall information board. Please feel free to refer to it for information on seeing the cherry blossoms.
Access to Nakameguro Station from Yutenji Station by subway:
Yutenji Station→Nakameguro Station (approximately 2 minutes by Tokyu Toyoko Line)
本日のブロガー:J.U.