2021.0129
Information about changing the breakfast content
Thank you for staying at Tokyu Stay Nihombahi.
We will change the breakfast contents from February 1.
---
Old : Buffet style
New : Take out style ( Named "ステイde朝食DELI + 選べるサイドメニュー")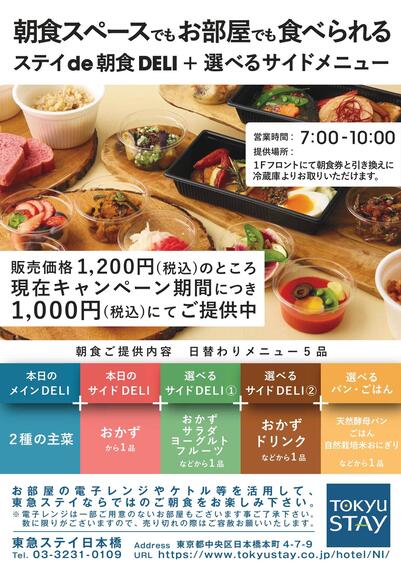 The detail is as bellow:
◇Breakfast menu:5(Daily menu)
 ①Today's main DELI・・・Japanese : 1, Western food : 1

 ②Today's DELI(Side dish) : 1

 ③DELI : 1(Side dish, Salad, Yogurt and Fruit etc...)

 ④Drink : 1(Please Choose from green tea etc...)

 ⑤Bread or Rice:Any one item

◇Providing time:7:00~10:00
 In exchange for the breakfast ticket, and hand foods and drinks to you at 1st floor lobby.

 *As the number is limited, it may be sold out. please note.
◇Price:¥1,200(Include tax)
However, we sell ¥1,000(Include tax)for a while.
---
Please use the microwave and kettle set on lobby or room and enjoy the new breakfast style in your room.